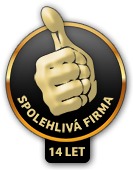 Profile
About the company
The company TH.data has been operating on the market since 2000 and for all these years we have been providing comprehensive consulting services to physical and legal entities. In 2013 the company was transformed into a joint-stock company following its further expansion, basic capital increase, improved trustworthiness and solvency in the market.
Our main spheres of activity are accounting and tax consulting, book keeping and tax evidence, payroll processing and HR agenda administration including related economical and financial consultancy.
Using our long-term experience and extensive knowledge of the market we are ready to offer the most optimal solution designed specifically for your company.
Our company answers the requirements of the certification standard ISO 9001, we hold the highest credit rating AAA and we are registered in the list of legal entities entitled to provide tax consultancy by the Chamber of Tax Advisors of the Czech Republic. Our tax advisor has endorsed the Code of Ethics of the Chamber of Tax Advisors of the Czech republic.
Certification